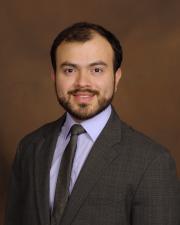 Assistant Professor, Family and Consumer Science
Discipline: Microbial Food Safety
---
Education
PhD Food Science and Technology, University of Nebraska-Lincoln
MSc Food Science and Technology, University of Nebraska-Lincoln
BS, Zamorano University, Honduras
Research, Teaching and Extension Activities
Luis Sabillón is an assistant professor in the Department of Family and Consumer Sciences. His research program aims to improve the microbiological safety of food products by contributing to the understanding of pathogen ecology, and by developing antimicrobial intervention strategies along the farm-to-table continuum. The long-term goal of Sabillón's research is to develop a better understanding of how environmental factors influence the survival, prevalence, and transmission dynamics of enteric pathogens in agricultural regions and food processing plants, and how that relates to emergence of phenotypic traits, such as antibiotic resistance.
Prior to joining NMSU, Sabillón was an assistant professor of practice at the University of Nebraska-Lincoln where he conducted research in applied food safety and taught two upper-level undergraduate courses in the area of commodity processing. He received his Ph.D. from the University of Nebraska-Lincoln, where his research evaluated the impact of antimicrobial interventions to improve the microbiological safety of wheat flour and flour-based foods using a risk-based approach.
Sabillón currently teaches courses of interest to food science students. One is entitled "Food Safety and Sanitation", which is taught every fall semester. Aside from research and teaching, Sabillón has an extension and outreach program designed to address the food safety needs of the New Mexico food industry. His extension activities include technical assistance, workforce training, workshops and webinars to disseminate pertinent food safety information, and teaching GMPs, HACCP and FSMA short-term courses. When not doing science, Luis can be found enjoying outdoors activities with his family.
Selected Peer-Reviewed Publications
Luis Sabillon Galeas
Department of Family and Consumer Sciences
Box 30003, MSC 3470
Las Cruces, NM 88003-8003
Phone: 575-646-1766
Fax: 575-646-1889
Email: lsabillo@nmsu.edu